AFRICA- & SOUTH AFRICA
Sat, 27/02/2010 - 1:23am
#1
AFRICA- & SOUTH AFRICA
MAP OF AFRICA - listing all the countries
Fri, 06/12/2013 - 1:13am
#4
Nelson Mandela
dead at 95
a great man -r.i.p
THIS IS MY LAST POST IN THIS SITE
i enjoyed finding information on
the amazing country of
SOUTH AFRICA
and its people_ THE END-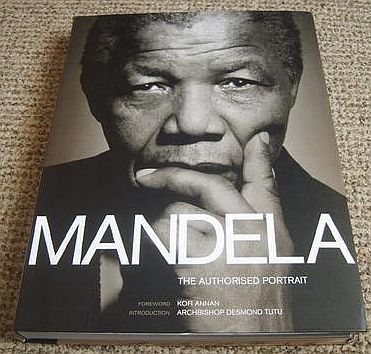 Nelson Rolihlahla Mandela
born 18 July 1918) - december 05 2013 born in Transkei, South Africa
'No one is born hating another person because of the colour of his skin, his background, or his religion.
People must learn to hate, and if they can learn to hate, they can be taught to love, for love comes more naturally to the human heart than its opposite.'
LIFE & TIMES OF NELSON MANDELA
Nelson Mandela - Mini Biography
This is a Poem 'Invictus' (Unconquered, Undefeated) by William Henley. Great South African Leader Nelson Mandela (Madiba) was inspired by the poem, and had it written on a scrap of paper on his prison cell while he was incarcerated for 27 years on Robben Island.
I am the master of my fate: I am the captain of my soul.
Out of the night that covers me,
Black as the Pit from pole to pole,
I thank whatever gods may be
For my unconquerable soul.

In the fell clutch of circumstance
I have not winced nor cried aloud.
Under the bludgeonings of chance
My head is bloody, but unbowed.

Beyond this place of wrath and tears
Looms but the Horror of the shade,
And yet the menace of the years
Finds, and shall find, me unafraid.

It matters not how strait the gate,
How charged with punishments the scroll,

I am the master of my fate:
I am the captain of my soul.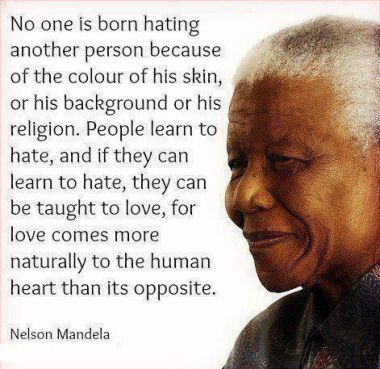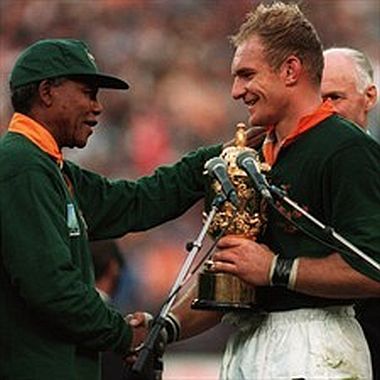 What was the happiest day of Nelson Mandela's life as president of South Africa and why was it?
During the rugby championship.
-South Africa vs. New Zealand.
When he came out the white Afrikaaners cheered his name and he was happy because they recognized him as their president.
The unbelievable Sprinbok victory at the 1995 Rugby World Cup was the epitome of all Mandela had hoped to accomplish. Black and white cheered and hugged in the stands, and partied in the streets. Both black and white cheered and called Mandela's name as he came onto the field to award the cup to the team. It was the beginning of a new era in South Africa.
Login
or
register
to post comments